As aging adults reach their golden years, many feel a strong desire to stay in a familiar environment. In fact, an AARP survey revealed that 3 out of 4 seniors want to remain in their home or community as they age.
However, older adults know that aging in place comes with a lot of health and safety risks. For instance, a senior loved one with a disability or chronic illness cannot live independently for safety reasons. There's also the increasing vulnerability of seniors to sustain falls and other injuries, especially if they live alone.
Thankfully, modern adults now have a wide range of eldercare options to choose from. For example, there are now senior communities for adults who want an active lifestyle. At the same time, a skilled nursing home exists for those who need long-term medical care.
But if your senior loved one wants to continue living in their home as they age, then in-home care services are for them. Here is everything you need to know about home care support and why it's perfect for an adult who wants to age in place.
Why Care Partners? Get to know us more.
What Is In-Home Care?
In-home care refers to a hands-on type of support and assistance given to seniors so they can age in place. This kind of care option offers professional help with day-to-day activities and other aging needs. 
Typically, home care only includes non-medical services. But other agencies, such as Care Partners, also provide complex care to cater to seniors with acute health conditions or those recovering from a disease.
In-home care can be a perfect care option for seniors who:
Require assistance with daily living activities.
Need help with household chores and home maintenance.
Need assistance with necessary errands, such as grocery and driving to appointments.
Have poor motor skills and those who struggle with mobility.
Are in the early stages of cognitive or memory decline.
Are recovering from an illness or temporary condition.
Need companionship to avoid isolation.
What Kind of Services Does It Provide?
Generally, home care agencies provide various services to help seniors achieve their everyday tasks. Furthermore, these services also work on improving one's independence and quality of life. Some of the specific services Care Partners at Home provide include the following:
Assistance with activities of daily living (ADLs) which are essential to ensure one's survival and health. This includes bathing, toileting, grooming, and dressing.
Light housekeeping and laundry.
Driving to and from essential appointments or fun outings.
Meal preparation, cooking, and grocery shopping.
Assistance with physical and wellness activities.
Medication reminders and other disease-specific caregiving.
Alzheimer's and dementia support and engagement.
Daily companionship and communication.
Of course, these services are not set in stone. It can change depending on the unique needs of your loved one. 
Furthermore, every in-home care service always includes family involvement and caregiving feedback. We value every input that families may have when it comes to the care of their senior loved ones.
Who Provides In-Home Care Services?
At Care Partners, we employ trained caregivers and personal care attendants to provide home care services. Besides years of experience to back them up, our care professionals also work with compassion, empathy, and love. 
After all, home care services are always more than just making beds and filling prescriptions. It is about creating a nurturing environment where seniors can thrive and achieve the highest quality of life possible.
Furthermore, we value our clients' preferences when it comes to caregivers. We know how critical it is to build trust and connection with someone who you'll be spending the better part of your day with. Thus, we make sure to carefully match suitable caregivers to the personal preferences of our clients.
If you'd like more information or just some honest help to decide what is truly best for you, feel free to contact us. Consulting with Care Partners.
How Is Care Provided?
You don't need to have a doctor's recommendation to get personal care services. Instead, you or your elderly loved one can decide to get it through the help of a qualified home care provider.
Every aging adult has different personal and medical needs. So at Care Partners, we make it a point to provide customized home care plans that meet each client's needs. 
Moreover, there will be an initial assessment to match your senior loved one to a caregiver with the right skill level and personality. Additionally, we have a flexible scheduling system that works for both caregivers and clients. 
For instance, we can provide in-home care services at specific hours of the day, depending on your preferred schedule. A personal care attendant will visit or stay with your elderly  loved one to provide home care support services. 
We also know that personal and medical needs can change from time to time. Thus, we make it a point to reassess one's
How Are In-Home Care Services Paid?
There are many ways to pay for personal care and companionship services. This includes the following:
Private payment – the patient receiving the care or their loved one can pay for it directly to their provider. 
Medicaid – in most cases, Medicaid or Medicaid waiver covers the cost of a beneficiary's personal care services.
Private health insurance – this depends on the insurance provider and the specific policy your senior loved one signed up for.
Other applicable financial assistance resources include Veteran's benefits and worker's compensation.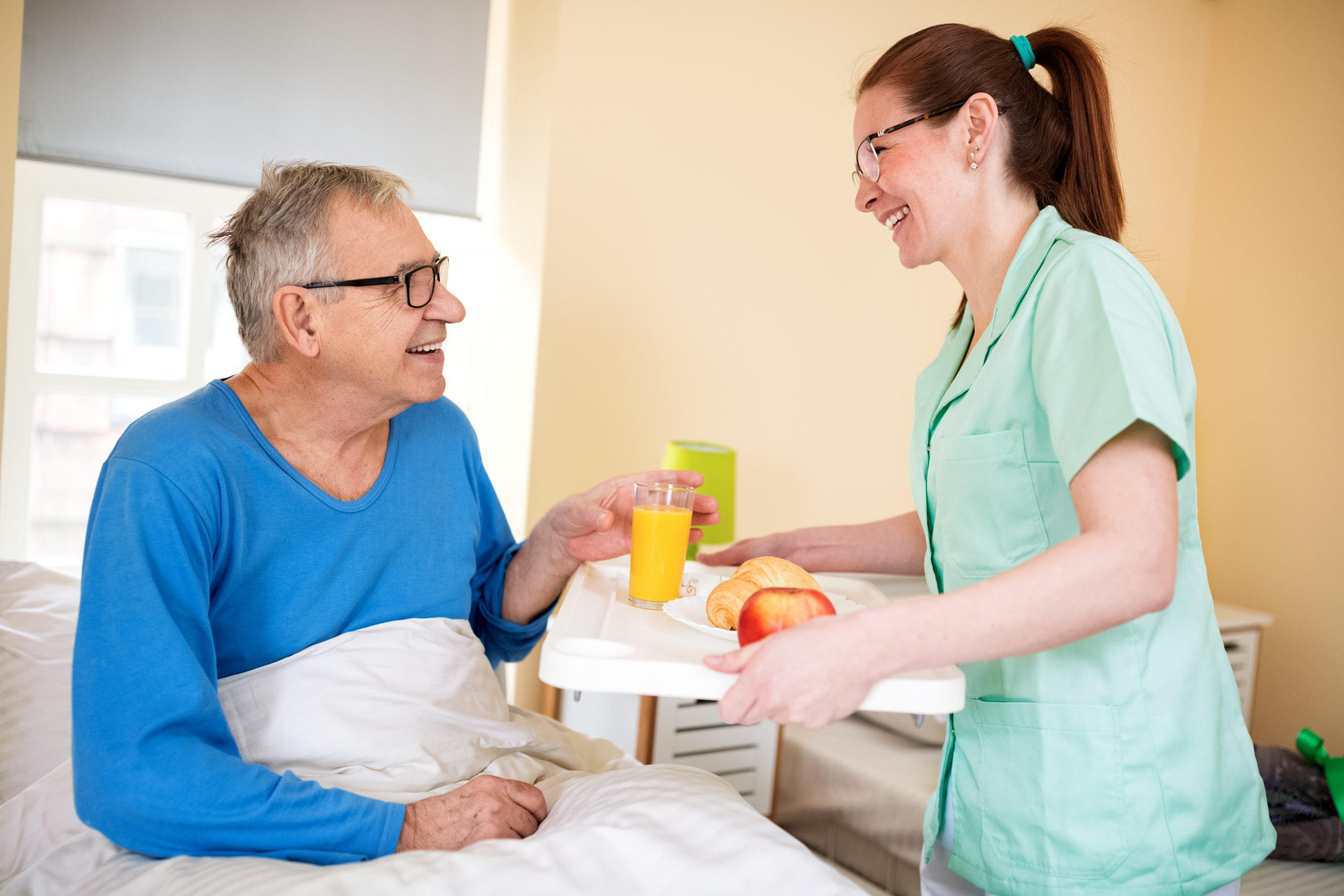 If you have any additional questions, here are some we frequently get from clients. FAQ
Why Should You Consider Home Care Services?
The main goal of in-home care support is to provide seniors with the highest quality of life possible while being in the comforts of their own home. 
But before reaching that goal, senior patients can expect to reap tons of benefits that can significantly contribute to their overall well-being. Some specific examples include:
Increased independence
Home care services include fostering independence by letting seniors do tasks they are comfortable with. Additionally, it also helps recovering seniors regain their autonomy by having a reliable caregiver by their side.
Speedy recovery or improvement of health condition
A hands-on approach in disease management can definitely help enhance one's medical condition. Not to mention the ease of care and support that comes with in-home care services. As a result, there would be less hospitalization and an increase in recovery time.
A cost-effective option
Some elderly living communities also provide personal care services, but it comes at a high price. On the other hand, receiving home care services can help your loved one save money without compromising the quality of the care they receive.
Gaining a trusted companion
At Care Partners, we believe that quality caregiving services always come with four key ingredients一love, compassion, empathy, and connection. These four attributes can significantly contribute to one's healing journey and well-being.
Furthermore, an environment created out of love and compassion helps increase our client's quality of life and overall happiness.
Allowing a senior to age in place
One of the major advantages of personal care services is the opportunity to stay in your own home. This, together with compassionate care, can speed up one's recovery or improve their health condition.
Learn More About Home Care Support Services at Care Partners at Home
Nothing beats the safety and security that a familiar environment offers. So here at Care Partners at Home, we provide a wide range of in-home care services一from basic assistance to complex care.
If you think an elderly loved one would benefit from something like this, then don't hesitate to contact us. Get in touch with our care team to get a complimentary consultation or learn more about in-home support services.
Read more about our best articles;
Assisted Living vs Board and Care Homes
Top 6 Benefits of In-Home Care for Seniors
5 Factors to Consider When Choosing Home Care Services